SAFE NON PRESSURE ROOF CLEANING IN MARYLAND
ROOF CLEANING AND ROOF WASHING ALGAE REMOVAL
BK HANDYMAN LLC can safely remove the ugly black streaks,moss and lichen on your asphalt shingles on your roof in Maryland by using a non pressure chemical cleaning process adding curb appeal and extending the life of your roof, that is recommended by the ARMA "Asphalt Roofing Manufactures Association."
The most common growth on your roof shingles are ugly black streaks. Our non pressure soft wash cleaning process can safely remove them instantly using a gentle washing process with no more pressure than a garden hose. Making your roof in Maryland look like new again!
DO NOT REPLACE YOUR ROOF RENEW IT!!
Our non pressure cleaning technique guarantees no damage to your shingles or roof.
We will clean and sanitize your roof,protect the landscaping and make sure you are 100% satisfied.
DO NOT ALLOW SOMEONE TO CLEAN YOUR ROOF WITH A POWER WASHER
Cleaning a roof with a power/pressure washer will damage your shingles.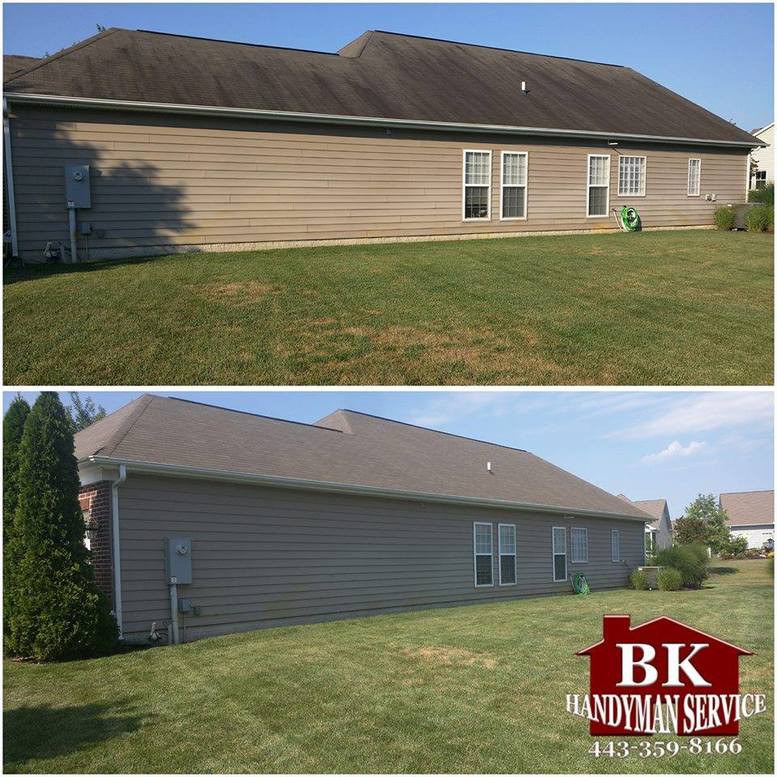 ROOF CLEANING SERVICES IN:
Easton Roof Cleaning | Denton Roof Cleaning | Federalsburg
Roof Cleaning
| Greensboro
Roof Cleaning
| Annapolis
Roof Cleaning
| Ridgely
Roof Cleaning
| Centreville
Roof Cleaning
| Stevensville
Roof Cleaning
| Kent Island
Roof Cleaning
and surrounding areas.