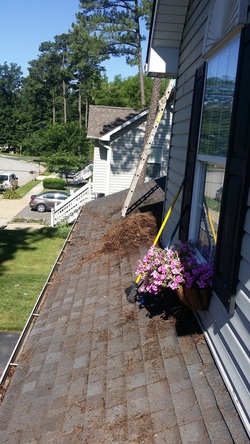 At BK Handyman Service we can clean your gutters,clean your downspouts and also repair your gutters at your home or business in Denton Maryland.Clean gutters add to the beauty and value of your home.They are less likely to be damaged in bad weather and protect your home from water damage. Broken or clogged gutters can cause roof leaks, flooded basements, interior dampness, rotting fascia boards, rotting window frames and eroded landscaping, sidewalks and driveways, etc. These problems can be far more costly to repair than a quick and painless gutter cleaning.
Leave the Ladder work to us!
Clogged gutters can cause damage to your home and getting up on a ladder or walking on your roof to clean out your gutters can be very dangerous. BK Handyman Services gutter cleaning is one of the most important maintenance items we can offer for your home. BK Handyman Service will remove all debris from your gutters and clean your downspouts using techniques and equipment that allow us to perform the work safely. When the gutter cleaning job is done, all gutter debris is cleaned up so you don't have to worry about leaves and gutter muck on your house or in your yard. Once BK Handyman Service has removed the debris from your gutters, our gutter cleaning technicians will use high velocity air movement to flush the downspouts and ensure good flow. If there is any blockage in the gutters or downspouts, we will flush them again with water and even take the downspout apart if necessary.
SAFETY FIRST!
At BK Handyman Service we understand that not only do you expect high quality work, but that you don't want to clean up a mess afterward!
BK Handyman Services 5 Point Quality Check System:
Remove all debris from gutters and downspouts.
Test drainage
Remove gutter and downspout debris from property
Inspect gutters, downspouts, roof and fascia for visible damage
Provide owner with inspection notes and results
At Bk Handyman Service we understand the value of having clean gutters and clean downspouts!
---